Do you work with other developers and need to manage their Xojo licenses? Good news! You can easily assign licenses from your Xojo account to your coworkers', giving them access to tech support and other features from their own Xojo account.
Assigning your Xojo license to a team member will allow that developer to use their own Xojo account to access the Xojo Forum, Xojo tech support and report cases in Feedback. Follow these simple instructions to pair your accounts and assign Xojo licenses. But, please remember, each Xojo license is a single user license so an assigned license should only be used by a single developer at a time!
1) If they don't already have an existing account, have the developer (User 2) to whom you will be assigning a license register an account here https://xojo.com/account/login.php.
2) Once logged into their account, User 2 should visit their Team page https://www.xojo.com/account/people.php to retrieve a connection key. User 2 should provide this connection key to the user of the managing/purchasing account (User 1).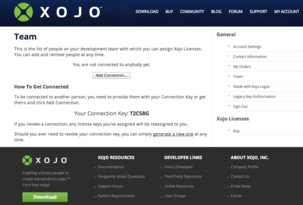 3) Following this, User 1 will visit their Team page https://www.xojo.com/account/people.php, select "Add Connection" and enter the connection key provided by User 2. Voilà , the two accounts are connected!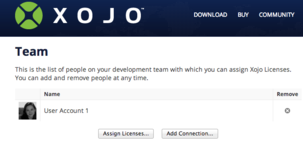 4) Next, User 1 can go to https://www.xojo.com/account/licenses/ to assign licenses to User 2. Just select the box next to the license, then click on the drop-down menu at the bottom of the license list where it says "Myself," choose "User 2" and then click "Assign".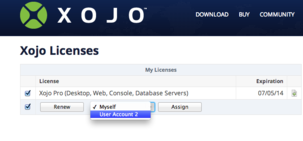 Once the license has been assigned, User 2 will be able to see the license from their license page https://www.xojo.com/account/licenses/ when logged into their own account.

This process can be repeated for additional Xojo licenses and developers.
If you have any questions, please feel free to contact Xojo Customer Service at hello@xojo.com anytime!