If you are not a fan of online forums, you'll want to check out the Xojo forum. It's not like any forum you've ever seen.
In fact, we just updated the forum last week. One great new feature is that you can mark your topic as answered and the answer appears embedded within your question.
The forum is incredibly popular with over 23,000 posts* (in a little over 4 months) in more than 3,300 conversations.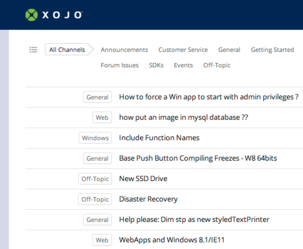 If you have a question about using Xojo, the forum is a great place to go for answers. With nearly 2,500 members** (and growing) you can bet that there is someone there that will be able to help you. Plus, many Xojo staff members monitor the forum and offer their advice, myself included. You enable forum access by going to your account page at Xojo.com and selecting "Enable forum access". We do request that people use their real names in the forum, like other places are starting to do. You can also add an avatar to display by creating a Gravatar account that is linked to your Xojo account email.
Below are two big reasons why we like the forum so much:
Usability: The forum is big, friendly and easy to read. Unread conversations and new posts are easy to find. There are several channels available to discuss your favorite Xojo topics, including: General, Getting Started, Databases, Windows, OS X, Linux, Web and SDKs. You can get email notifications of new posts in conversations and channels that interest you. And don't forget with a Xojo Pro license you get access to the Xojo Pro channel which includes consulting leads.
There is a big search field (that says Filter conversations) at the top right that allows you to quickly find somethingn specific. It has all kinds of "gambits", which are little shortcuts that allow you to control what gets searched and filtered. You can see these by just clicking in the search field and reviewing the drop-down list.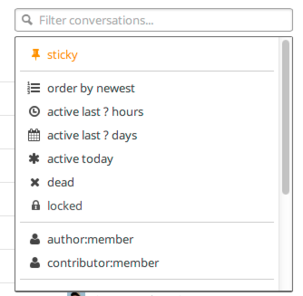 Replying to posts is easy: just start typing in the "write a reply" box. You can select text on previous messages and click the quote button to use the text as a quote in your reply. Plus you can do other formatting, embed images and format source code.
Community: The community is wonderful. We have a lot of active, passionate users. The forum is always buzzing with new conversations on all sorts of topics. Be sure to check out your Profile page (click on your name at the top) and add a little information about yourself. You can also see some stats and your forum activity.
I look forward to seeing you there!
UPDATE:
*The Forum has over 55,000 posts as of February 2014!
**The Forum reached over 5,000 members as of February 2014!