Looking for something to do after #XDC2015 wraps? I grew up in Houston but lived in Austin for 10 years and I can confirm that after talking about food, showing off the great state of Texas is a Texans' favorite thing to do! If you have any questions about things to do or places to visit, feel free to grab one of us locals (or former locals in my case) for more details!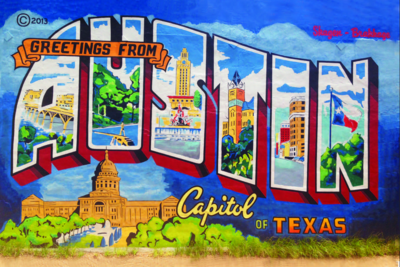 Things To Do In Austin – Most of these places are walking distance or a short car/cab ride from the Raddison on Lady Bird Lake where #XDC2015 is being held.
The Texas State Capitol Building– The sixth tallest state capitol and one of several that is taller than the US Capitol building in Washington DC. The rotunda features portraits of every person who has served as president of the Republic of Texas or governor of the State of Texas. The south foyer features a large portrait of David Crockett, a painting depicting the surrender of General Santa Anna at the Battle of San Jacinto, and sculptures of Sam Houston and Stephen F. Austin made by Elisabet Ney.
University of Texas– Like libraries and museums? The University of Texas hosts the 5th largest academic library. The Harry Ransom Center holds the earliest known surviving photograph made in a camera, the papers of Norman Mailer and the Watergate papers of Woodward and Bernstein. Visit the LBJ Library & Museum, the Texas Memorial Museum and the Blanton Museum of Art.
Barton Springs & Zilker Park– Get outside and fall in love with Austin! Within Zilker Park's 358 acres lies one of the crown jewels of Austin – Barton Springs Pool. The pool itself measures three acres in size, and is fed from underground springs with an average temperature of 68-70 degrees, ideal for year-round swimming.
The Boardwalk on Lady Bird Lake– The Boardwalk Trail at Lady Bird Lake will connect the current end of the trail by the Austin American Statesman Building to Lakeshore Park, closing the southeastern gap of the hike and bike trail.
The Bob Bullock Texas State History Museum & IMAX Theater– Visit the Bullock Museum to experience ever-changing exhibitions, innovative films, and unique programs and events.
The SoCo Strip – The South Congress Strip, this hip strip features an array of eclectic shops, restaurants, boutiques, antiques, music venues and galleries. Every first Thursday of the month, stores remain open until 10pm.
Mt. Bonnell (6 miles, about a 15 minute drive)- Mount Bonnell, also known as Covert Park, is a prominent point alongside Lake Austin portion of the Colorado River in Austin, Texas. It has been a popular tourist destination since the 1850s.
The Lady Bird Johnson Wildflower Center– The Center's gardens display the native plants of the Central Texas Hill Country, South and West Texas, while the Plant Conservation Program protects the ecological heritage of Texas by conserving its rare and endangered flora.
The Broken Spoke– Want to experience a night in an authentic Texas dancehall? This dusty dancehall hosts the best honky tonk music in Texas. Live music, country dancing plus a damn good fried steak, Yeehaw!
The Alamo Draft House– If you want to see a movie while in Austin, the only theater that exists in the mind of an Austinites is the Draft House. Those of you who were with us at Real World 2009 will remember the Master Pancake redo of Back To The Future we saw there- Remote Debugger! Good movies, great food, local beers and zero tolerance of talking, texting and other rude behavior during shows!
The Domain (25 miles from downtown, about a 20 minute drive)- Situated in a beautiful park-like setting, The Domain features 100 upscale and mainstream retail stores and restaurants. A sampling of retailers includes high-end boutiques such as David Yurman, Louis Vuitton, Ralph Lauren, Tiffany & Co. and Austin's only Neiman Marcus, as well as more traditional retailers like American Eagle Outfitters, Banana Republic, Express and more.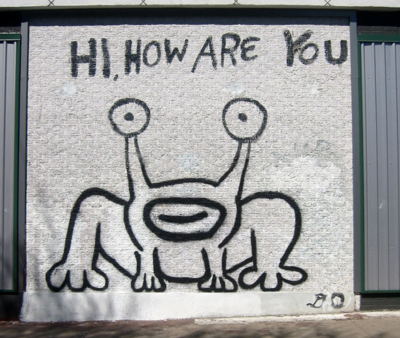 Day Trips: If you have a car and want a truly Texas day trip, visit San Antonio or drive out to the Texas Hill Country!
San Antonio is a staple of Texas history and only an hour and a half drive from Austin:
The Alamo– Remember the Alamo! People worldwide continue to remember the Alamo as a heroic struggle against impossible odds — a place where men made the ultimate sacrifice for freedom. Also Davey Crocket.
The Riverwalk– Pop over to the Riverwalk after you get your fill of Texas history at The Alamo for shopping and food. The park is lined with restaurants, hotels, attractions and more. Take a river boat tour or even dine on a riverboat dinner cruise.
Natural Bridge Caverns– The Natural Bridge Caverns are the largest known commercial caverns in the U.S. state of Texas. Pan for precious stones, take the ultimate leap of faith from the Canopy Challenge, go caving on one of our adventure tours or simply experience nature on the original Discovery Tour.
The Texas Hill Country, wildflowers, music, wine…
Fredericksburg, Texas – Historic Fredericksburg was founded in 1846 and named after Prince Frederick of Prussia boats great shopping, local arts and crafts and fine dining. History in Fredericksburg is alive and well. Experience the past through the Pioneer Museum Complex and the Sauer Beckmann Living History Farm – sites that tell the story of German settlers in the Texas Hill Country.
Enchanted Rock – The massive pink granite dome rising above Central Texas has drawn people for thousands of years. But there's more at Enchanted Rock State Natural Area than just the dome.
Lukenbach, Texas– Everybody's Somebody in Luckenbach. Visit the old dancehall and listen to live music nightly at this legend of Texas music history.
Hill Country Wine– Come experience the most visited wine region in the United States, second only to Napa Valley. Texas is gaining a reputation for growing high-quality grapes and producing world-class, award-winning wines.
Schlitterbahn, New Braunfels– Schlitterbahn Waterpark is nestled along the beautiful banks of the Comal River and features world-famous attractions, epic river adventures, kid's water playgrounds, and beautiful spots to relax and share a picnic. They have limited dates and hours in April and May so please check the schedule first.
Leaving Austin? Visit These Other Great Parts of Texas, Y'all:
Houston
Houston is a 3 hour (give or take) drive from Austin. So it's not really a day trip but as the largest city in Texas, it has a lot to offer:
Space Center Houston– offers more than 250 space artifacts, permanent and traveling exhibits, attractions and theaters related to the exciting future and remarkable past of America's human space-flight program – all for one admission price. The experience is designed to engage adults and children alike.
The Galleria– More than 26 million people visit The Galleria, Texas' largest shopping center each year. A plethora of amenities, including a full-size ice rink for recreational and figure skating, a state of the art children's play area, two swimming pools, a video arcade, three full-service national and international banks, two tailor shops, 12 beauty salons, and a post office, continually serve a wide range of shopper delights.
Galveston is only a hour's drive South from Houston and where most locals go for a beach fix. The Gulf of Mexico is pretty warm so don't be surprised when you find Texans swimming in April! Walk The Strand and enjoy the variety of shops in the district's beautiful historic buildings, many of which survived the 1900 Storm, regarded as the worst natural disaster in U.S. history. Moody Gardens A little bit of tropical paradise in Texas. Visit the Aquarium Pyramid, Rainforest Pyramid, 3D Theater, Discovery Museum, Colonel Paddlewheel Boat and more. There is also a Schlitterbahn water park in Galveston that offers some heated/indoor areas that will be open after XDC but please check their schedule for specific dates and open attractions.
Norm pointed out that Cinco de Mayo, which commemorates a Mexican victory over the French army in 1862, is just a few days after XDC. Cinco de Mayo celebrations are a big deal in Texas! There's the Cinco De Mayo Block Party Downtown on the 5th and there's a large celebration at Fiesta Gardens Park May 2nd & 3rd.
We've still got a few spaces remaining for #XDC2015 if you are still deciding if you will attend, I suggest you register today! Last year we sold out; this is the biggest Xojo Event of the year!
Like I said earlier, let me know if you are interested in visiting anywhere I didn't mention (Dallas and Big Bend come to mind). I'll be glad to update this list and help make your trip to #XDC2015 and The Lone Star State memorable! I'll publish another blog post soon with a list of recommended restaurants in and around downtown Austin so stay tuned. If you have questions or comments, please post them here or ask me on Twitter @Xojo!