It's been over 7 years since Dana persuaded me to come interview with Xojo and leave the downtown law firm I'd been working at. Downtown has changed a lot in that time, some of it is barely recognizable. So many of my old haunts are gone but I'm not looking back, I've discovered a whole slew of new dining experiences in downtown. As I mentioned in my earlier post covering things to do while visiting Austin, there is nothing a Texan loves as much as talking about food. Austin offers an eclectic and seriously yummy variety of restaurants, here are some local favorites you should try while in town for #XDC2015.

The majority of the restaurants listed are within walking distance of the Radisson Downtown. I've indicated the distance from the hotel and note if you'll need a car/cab for those that are a bit farther but could not possibly have been left off this list. It's a fact that Texans dine out more than any other state in the US, this is in part because we have some of the best food around and maybe also because dining out in Texas is about 10% less than the national average. I could have easily made this list twice as long but I did try to keep it close to the Radisson Downtown.
American Food- Steak, Seafood, Hamburgers, Diners, Fried Chicken and more; fine dining for a Texas-sized steak, seafood or a burger or salad.
The Roaring Fork, Lunch & Dinner, 0.2 miles
701 Congress Ave, InterContinental Stephen F. Austin Hotel, Austin, TX 78701, 512-583-0000
The Roaring Fork's Wood Fired Cooking captures the spirit of bold American cuisine, creating flavors that crackle with a rugged edge.
Moonshine Patio Bar & Grill, Lunch & Dinner, 0.2 miles
303 Red River Street, Austin, TX 78701, 512-236-9599
Comfortable and familiar, relaxed and easygoing, Moonshine greets guests like family. Serving up great cooking with an innovative take on classic american comfort food, Moonshine's menu satisfies even the big city tastes. A Moonshine Bloody Mary and Sunday Brunch on the patio, there's no better way to end a weekend.
Gus's Fried Chicken, Lunch & Dinner, 0.2 miles
117 San Jacinto, Austin, TX 78701, 512-474-4877
The "Gus's World Famous Fried Chicken" recipe is a closely-guarded family secret. Once upon a time, Saveur Magazine asked Gus himself for the recipe. His response? "I ain't telling!" Gus's is on the list because Geoff insists it's the best fried chicken he's ever had. It seems many other people around here agree to that!
Sweetish Hill Cafe & Bakery, Breakfast & Lunch, 1.3 miles
98 San Jacinto Blvd, Austin, TX 78701, 512-472-2411
Sweetish Cafe offers both pastries and hot breakfast. They also feature soup, salads and sandwiches for lunch. They are open until 7:00 pm, Monday through Saturday.
Murphy's Deli, Breakfast & Lunch, 0.4 miles
111 Congress Ave, Suite 180, Austin, TX 78701, 512-708-8881
Murphy's offers an assortment of sandwiches including muffalatas, hot subs, cold subs, sandwiches, salads and gyros. A decent, quick stop for a Texas-sized sandwich.
Truluck's, Lunch & Dinner, 0.3 miles
400 Colorado, Austin, TX 78701
An amazing, fine dining experience in steak and seafood! Fresh Stone Crab is a specialty here along with juicy steaks. Business casual dress is required, no tank tops or shorts and, as all good Texans know, you better remove your hat when you walk in the door.
Mighty Fine, Lunch & Dinner
Mighty Fine burgers are just that according to Dana. Though there isn't a location near downtown, their Burger Truck does roam the streets. I'll include it in our list in the hope that their April schedule has them near downtown!
Burger Bar, Lunch & Dinner, 0.1 miles
J.W. Marriott, 110 E. Second St., Austin, TX 78701
The best walk up window in Austin featuring freshly ground flat top burgers, inventive handspun shakes and addictive fry creations.
Swift's Attic, Dinner & Sunday Brunch, 0.2 miles
315 Congress Ave, Austin, TX 78701, 512-482-8842
Modern American small plates. Focusing on farm to table. The bar features local, craft beers, wines and innovative craft cocktails. A tasty and local late night stop.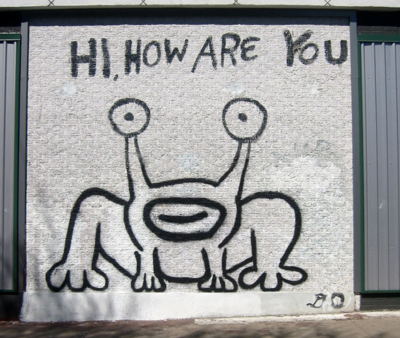 BBQ- This is Texas. We know BBQ. These places are local favorites, need I say more?
Iron Works, Lunch & Dinner, 0.3 miles
100 Red River, Austin, TX 78701
Real Texas Barbecue in a country atmosphere in the middle of downtown Austin, since 1978. Dine in the registered historical site of the old, actually iron works shop.
Stubb's, Lunch & Dinner, 0.8 miles
801 Red River, Austin, TX 78701
Famous as both a music venue and a BBQ joint, Stubb's became the heart of an explosive music scene in the 1970's. Stubbs was ground zero for musicians like Joe Ely and Stevie Ray Vaughn. Other famous musicians who would "play for their supper" included Muddy Waters, John Lee Hooker, Willie Nelson, Johnny Cash, Robert Cray, George Thorogood, Clarence "Gatemouth" Brown, Linda Ronstadt and the Fabulous Thunderbirds. Although small in size, Stubb's Restaurant was always filled with good friends, great music and plenty of legendary Bar-B-Q.
Franklin Barbecue, Lunch & Dinner, 1.2 miles
900 E. 11th Street, Austin, TX 78702
Since 2009 Chef Aaron Franklin has been serving some of the finest brisket, ribs and pulled pork to the people of Austin. Franklin Barbecue has been nominated best BBQ in Texas by the venerable Texas Monthly magazine and Franklin has also been nominated for a James Beard Award in the category of Best Chef: Southwest.
The Salt Lick, Lunch & Dinner
18300 FM 1826, Driftwood, Texas 78619, 512-858-4959
The Salt Lick, though not technically in Austin, is an Austin Institution. If you want a truly Texas experience, take the scenic drive out to Driftwood and enjoy the world-renowned food and atmosphere. And remember the Salt Lick is BYOB and best enjoyed family-style- so bring some friends!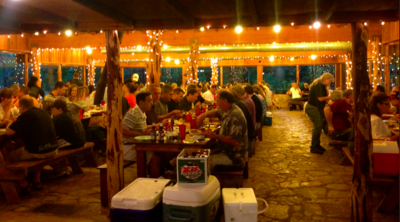 Mexican Food- This is Texas and we have our own brand of Mexican food known as Tex-Mex. It's delicious, often fried and covered in queso. When Texans say spicy, we mean it. Not for the faint of heart or anyone trying to stick to a healthy diet.
Manuel's, Lunch & Dinner, 0.2 miles
310 Congress Avenue, Austin, TX 78701 512-472-7555
For 30 years Manuel's restaurant has delighted local residents, politicians, musicians, and students in Austin, Texas. From the farm to the sea, we prepare Mexican food infused with unique, savory flavors, and steeped in tradition. Our award-winning mole and famous margaritas transport you to a place of timeless satisfaction. Live entertainment during the Sunday brunch.
Iron Cactus, Lunch & Dinner, 0.5 miles
606 Trinity, Austin, TX 78701, 512-472-9240
Located at the heart of 6th Street in a turn-of-the-century building remodeled to include a new rooftop patio with a view of downtown. Great food and fabulous margaritas, what's not to like?
Taco Shack, Breakfast, Lunch & Dinner, 0.3 miles
Frost Tower, 402 Brazos Street, Austin, TX 78701, 512-473-0101
With a focus on fast food using fresh ingredients, this local favorite delivers delicious food at a low price and with a friendly smile!
Taco Deli, Breakfast, 0.3 miles
Frost Tower inside Houndstooth Coffee, 402 Brazos Street, Austin, TX 78701
My daily meetings with Dana would be so much easier for me if she would stop bragging about her Taco Deli breakfast tacos!
La Condesa, Lunch, Dinner & Brunch, 0.3 miles
400 W 2nd St, Austin, TX 78701, 512-499-0300
Contemporary Mexican dishes, a vast tequila selection & happy-hour deals in a sophisticated setting. La Condesa is an award-winning modern Mexican restaurant, nominated for a James Beard Foundation Award for 'Best New Restaurant.'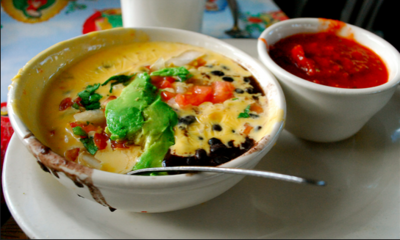 Asian Food- Austin has more to offer than burgers, BBQ and Tex-Mex.
Uchi, Lunch & Dinner, 3.7 miles
4200 North Lamar, Austin, TX 78756, 512-916-4808
Described as "contemporary Japanese dining dining and sushi restaurant", Uchi is simply the best sushi in Austin. Chef Tyson Cole won the James Beard Foundation Award for Best Chef Southwest in 2011. For me, Uchi is filled with memories of great food and good times with friends. You probably don't want to walk there but this is one of those places that just couldn't be left off the list!
Koriente, Lunch & Dinner, 0.8 miles
621 E. 7th Street, Austin, TX 78701, 512-275-0852
Korienete serves delicious Asian inspired food that is healthy, affordable and quick.
Mai Thai, Lunch & Dinner, 0.2 miles
207 San Jacinto Blvd. #301, Austin, TX, 512-482-8244
Authentic Thai cuisine in a modern setting. The reviews are in and Mai Thai is fresh and delicious Thai food in downtown.
Maiko Sushi Lounge, Lunch & Dinner, 0.6. miles
311 W 6th Street, Austin TX 78701, 512-236-9888
Maiko Sushi Lounge is both hip and authentic with a refreshing atmosphere high in energy and dedication. The food is a compilation of east meets west, giving you a fusion of the best of both cultures.
Bar Chi Sushi, Lunch & Dinner, 0.2 miles
206 Colorado Street, Austin, TX 78701, 512-382-5557
Boasting a dynamic menu that includes the freshest ingredients in Central Austin, BarChi has quickly become a neighborhood favorite. Featuring fresh sushi and maki rolls as well as a delicious variety of rare sashimi items, BarChi prepares delicious, cutting edge Japanese cuisine with competitive pricing and portion size.
Daruma Ramen, Lunch & Dinner, 0.7 miles
612-B East 6th Street, Austin, TX 78701, 512-369-3897
Daruma specializes in whole chicken broth ramen made with eggless tapioca-based ramen noodles. All of the stock and bases are freshly made every day from scratch. It allows them to make our ramen with a light and delicate flavor that you can enjoy until the very last sip of soup. This is one of the new places that I will definetly hit up sometimes during my Austin visit!
Italian Food- Texas isn't all about the beef. We've got fresh Italian food at these fine dining restaurants.
La Traviata, Lunch & Dinner, 0.4 miles
314 Congress, Austin, TX 78701, 512-479-8131
One of Austin's most popular and acclaimed restaurants since July 2000, Chef Marion Gillcrist offers seasonal fresh and elegant Italian inspired cuisine in the warmest of settings.
Osteria Pronto, Breakfast, Lunch & Dinner, 0.1 miles
J.W. Marriott, 110 E. Second St., Austin, TX 78701, 512-608-4490
Authentic, quality Italian food hand crafted with passion and served with class.
Like Texas, Austin restaurants cannot be confined to a few categories. Here are some of our more eclectic options.
Vegetarian
Mother's Cafe, Breakfast & Lunch, 0.7 miles
4215 Duval, Austin, TX 78728 Hyde Park
Mother's has been keeping Austin Weird and full for over 30 years. Known for its vegetarian and vegan food, Mother's has something for everyone. And if you ask them to make it spicy, you better be ready for spicy!
Indian
The Clay Pit, Lunch & Dinner, 1.3 miles
1601 Guadalupe St, Austin, TX 78701
Clay Pit Contemporary Indian Cuisine is a nationally-acclaimed, high-energy, contemporary Indian restaurant and bar with a warm and inviting ambience. The freshest Indian food in Austin, I would come here if only for the food or the atmosphere, luckily I don't have to choose.
Greek/Mediterranean
Athenian Bar & Grill, Lunch & Dinner, 0.4 miles
600 Congress Ave., Austin, TX 78701, 512-474-7775
Athenian Bar and Grill is a family owned Greek restaurant that specializes in the details, where ambiance and authenticity are served up in every carefully thought-out bite.
Ice Cream
Lick, Anytime is a good time for ice cream, 0.2 miles
117 San Jacinto, Austin, TX 78701
Lick honest ice creams use only pure, whole ingredients. All of the milk and cream used to make the ice creams comes from a local dairy. They know each of the farmers and food artisans they source from. With everyday staples with tons of local flavor like Texas Sheet Cake, Caramel Salt Lick and Cilantro Lime and seasonal favorites like Sweet Lemon, Gin & Juniper and Pecans & Cream, why aren't you there already?! Don't forget to ask Jason or William if they want to come along, those guys are serious about ice cream.
Barton Springs
Any list of Austin restaurants would not be complete without a mention of the Austin favorites along Barton Springs Road, Shady Grove, Chuy's, Austin Java, the original P Terry's and Green Mesquite BBQ.
There is also this great post from Austin 360 about places to enjoy Brunch. Ask me any questions or share your favorite Austin eatery here or on twitter @Xojo. I look forward to seeing everyone in Austin in just 29 days!