Here is a recap of some of the things we did last week for Computer Science Education Week.
To start the week, we did an Hour of Code with iOS webinar. In this 1-hour webinar, I created an iOS Doodle app from scratch. I also showed people how to create a simple game (Avoider), but we did not make it all the way through to completion.
You can watch the webinar the Xojo YouTube channel (with over 60 other videos) and download the Xojo project files.
On Friday, I volunteered at Mahoney Middle School to help four 7th-grade Science classes learn about programming (my wife is a teacher there). In each class, I talked for about 10 minutes on what it means to be a programmer and then demonstrated several apps that I have made with Xojo. Since these are 7th-grade kids, I used fun apps and games, including:
Desktop
2K (2048 clone) for desktop
Combat
iOS
Game Buzzer
Doodle
Avoider
The kids really liked these games. They all especially liked the Avoider game and were begging me to get it into the App Store so that they can play it!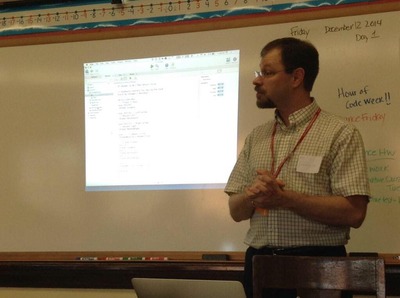 After my presentation, we all moved to the computer lab and the kids got to try a variety of tools to learn some simple programming. Popular ones included LightBot, Scratch and Hopscotch. These tools are visual so the kids can drag coding steps around to accomplish tasks. They can't create real apps, but they are a fun, easy way to get familiar with programming concepts.
Of course, Xojo is a great way to move on to the next level when you're ready to create real apps!