These days it seems everyone is working from home at least a few days a week. That is great for us humans and our home planet too. Your commute across the hall is quick and traffic-free, which is amazing for your personal stress-level and the local air quality. And your home office is likely to make you more productive and happier in your job, if set up right.
As more of us are working from home more often, it's important to set some basic guidelines for your job and your sanity.
Here are 5 tips to help you set up your home office right, along with a peek into the Xojo team's own offices.
1. Make a dedicated work space.
You don't work in the cafeteria or the waiting room when you go into the office. In that same light, you need a dedicated workspace at home. Don't work at the kitchen table or in a temporary area; there are too many potential distractions and interruptions. A dedicated space will make it easier for you to stay focused as well, as to "log off" and walk away from work. (This is so important!)
To keep your home and work lives from overlapping too much, work in your work space and live in your living space.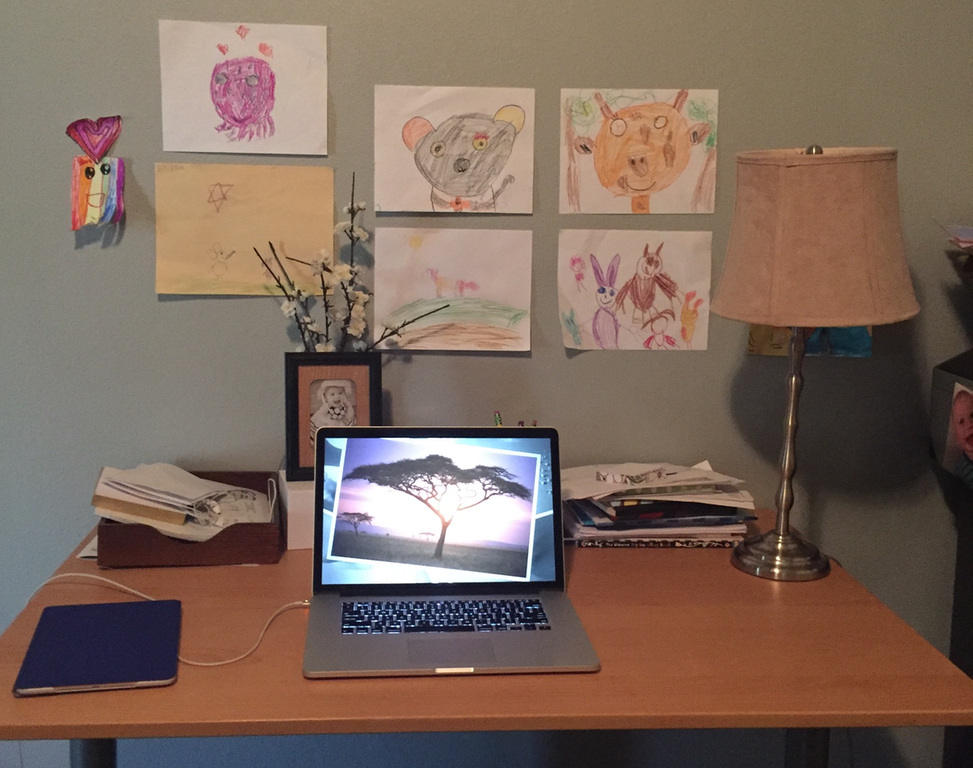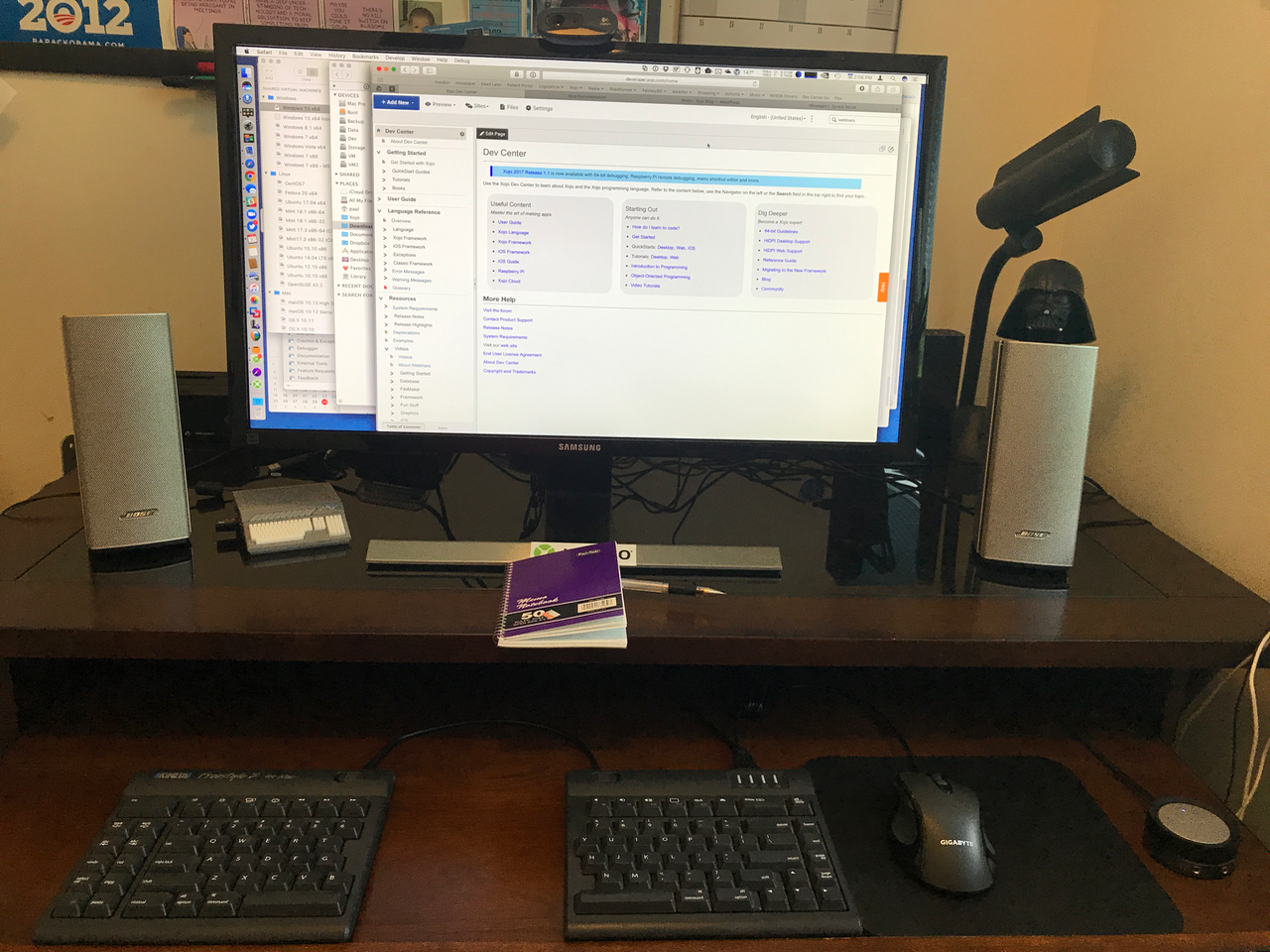 2. Create rules, it's still an office.
It's still an office and you have work to do. If there are other people (kids…I'm looking at you) at home while you are working it can be easy for them to forget you are working and inadvertently interrupt you. Have rules in place for your office hours such as "when the door is closed, do not interrupt" and "when it is open but I'm talking and you see my boss on the screen, quietly close the door and go away." My 4 year-olds can abide by these rules so I'm sure you can get your "officemates" to do the same. 🙂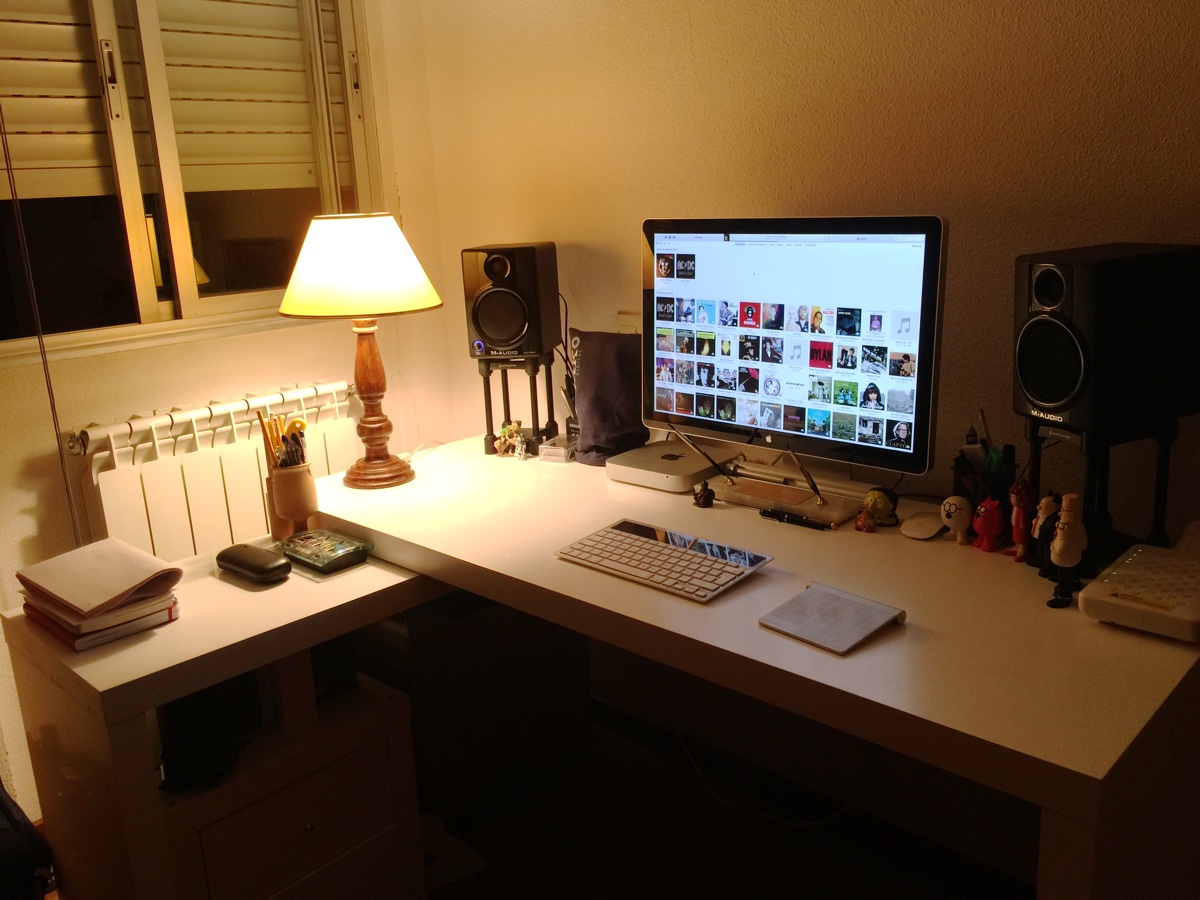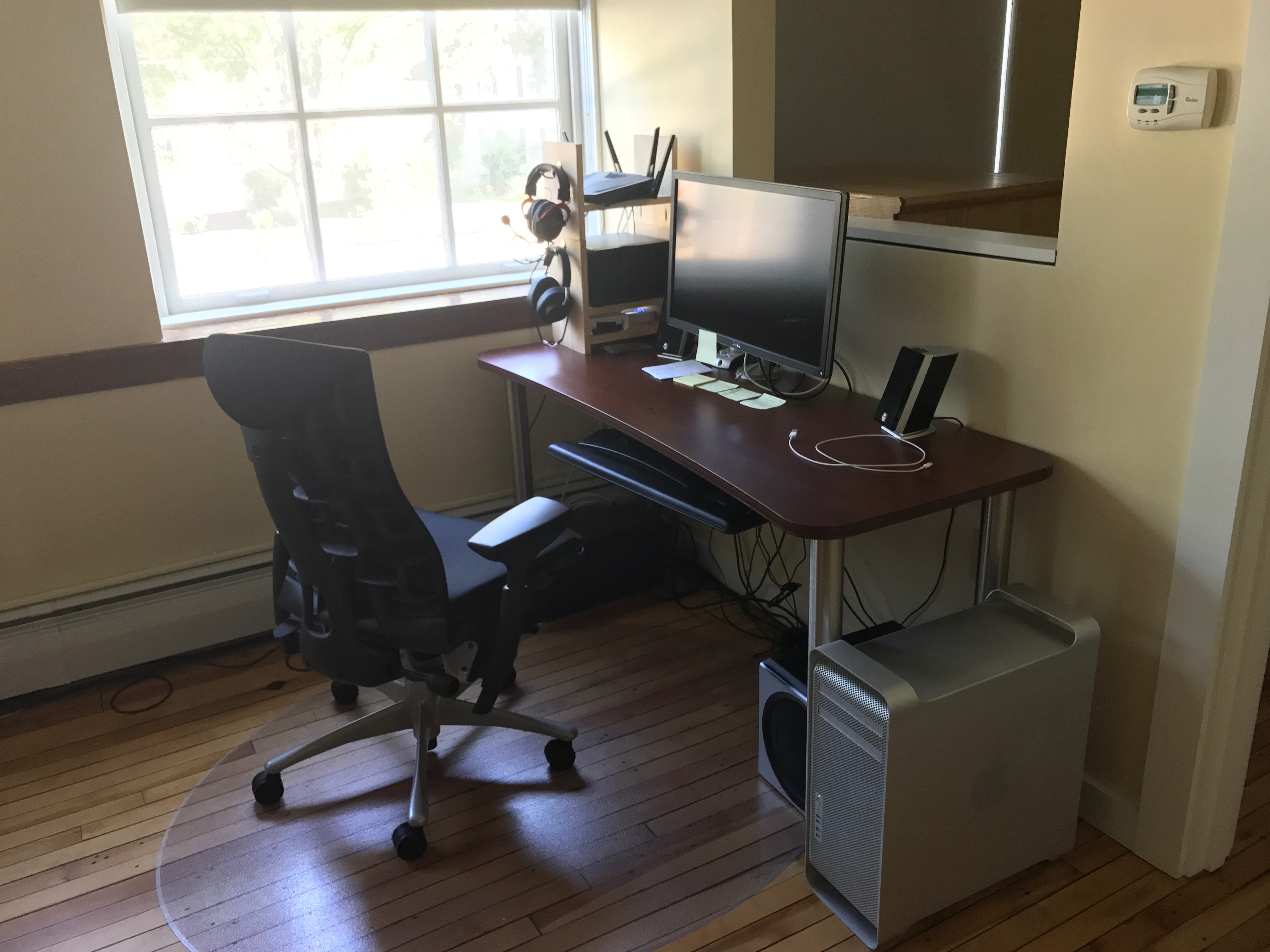 3. Stick to a routine.
Get up at a scheduled time each day and get yourself ready to go to work, mentally and physically. Shower, dress, work out, eat breakfast – whatever it is you do, do it daily. Let your routine further exemplify the lines between your work and home.
Remember to take breaks. It's far too easy to work too many hours without moving when you are not distracted by the comings and goings of general office commotion, which is not healthy. Leave your desk everyday, more than once even! Go eat lunch, walk the dog, do some laundry, water your tomatoes. Paul never eats lunch at his desk, Geoff walks his dog every morning, and I like to prep dinner when I make my lunch. The perks of working from home are many and varied!

4. Interact with others.Working from home can be lonely and that can wear down even the most introverted of employees. Mitigate this by taking advantage of the many ways to remotely communicate. Video and audio conferencing software like Skype, Google Hangouts and Zoom are free and incredibly easy to use. IM via Messages, Slack and others are another great way to chat. Social networks can be nice to interact with others, but be careful to not let them distract you from getting your actual work done.
If at times you truly need to be in the same space with actual humans and the local coffee shop isn't cutting it, look into coworking offices. A coworking office is a community office that people can share while working. Or consider making your own; I meet regularly at my home (office) with another working mom.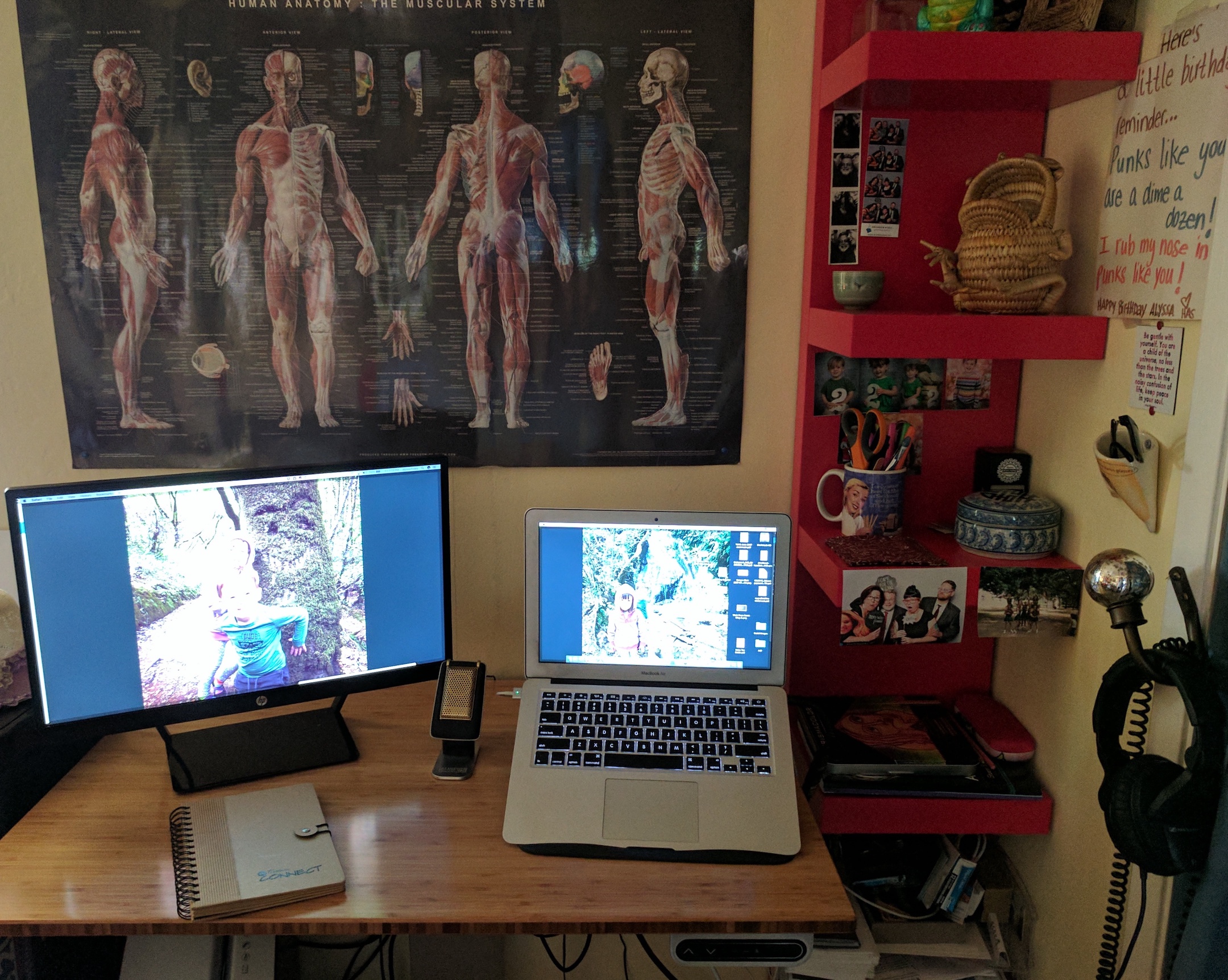 5. Enjoy the flexibility.
Working from home is incredibly convenient, which can make it far too easy to work far too many hours. Enjoy the flexibility you have: eat lunch outside on nice days, attend family activities, get something in the crock-pot, tidy a room. Don't let work consume your entire life just because it shares space with it – ironically that's the best way to end up being inefficient at both your job and your life.
Xojo moved to a virtual office model in 2009 and we've only looked back to revel in the metrics. This policy allows us to hire the right person for the right job, and then keep them on the Xojo team. Our employee turn-over rate is low, really low – and that reflects well on our employes' happiness. Going virtual enabled me to keep my job at Xojo when my husband got a great offer in another state 8 years ago – next year is my 10th anniversary with Xojo.
If you set up your office right, working from home can have so many benefits, for you and your job.