Xojo is an easy-to-use Integrated Development Environment (IDE) and programming language that allows you to create and deploy all kinds of native apps and solutions on Desktop (Windows, macOS, Linux), Web, iOS and Raspberry Pi with Android on the horizon.
We often get questions from newcomers about how Xojo licenses work and what license options available. Read on to learn what Xojo license is right for your needs. At the end, if you still aren't sure what license is right for you, you can get in touch with us and we'll help you get what you need.
1. Is Xojo Free?
Yes and no. Yes, because you can download and use Xojo for free as long as you need. You can learn Xojo, develop your project, run it and test it all for free. The only restriction is that you need a license to compile/build your projects. Besides that, there are not any other restrictions: you'll be able to use the debugger (even remotely on other operating systems or computers), use the supported databases, and any of the available Editors… absolutely everything!
If you are interested in developing for Raspberry Pi, then you'll be happy to know that you can get a Xojo Pi license for free! Create a Xojo account and visit the website to redeem the license. Then you'll be ready to create and deploy your Raspberry Pi solutions.
Once you are ready to compile/build your projects, buy a Xojo license and you'll be on your way to distribute your apps to as many people as you wish. There's no limit to how many apps you can build or how many people you can distribute those apps to (more about that later).
2. What are the available license options?
You can buy the Xojo license that best matches your needs. Keep in mind that you can always upgrade to a more powerful/versatile license if you need to. 
If you only need to create and deploy Desktop apps for one operating system, and you only expect to be using SQLite as your database engine, and you don't need to save for version control formats like GitHub, then the Xojo Lite license might work for you (US $99). What does Xojo Lite mean? Let's say you're only interested in creating apps for macOS, then you could use Desktop Lite for Mac. With this license you can activate your license on one computer (Mac, Windows or Linux) at a time and compile only for macOS.
If you later decide that you also want to reach users of other operating systems and/or you need to use other database engines (SQLite, PostgreSQL, MySQL, Oracle, Microsoft SQL Server or ODBC), you can always upgrade your Xojo Lite license to Xojo Desktop (US $299). Xojo Desktop lets you activate your license on 2 machines simultaneously,  access full database support and cross-compile for macOS, Windows and Linux. 
You also can find options for creating and deploying web apps with Xojo Web (US $299) and iOS apps with Xojo iOS (US $299). We also offer Xojo Pro (US $699) which lets you create and deploy apps for all of the supported targets (Desktop, Web, iOS, Console and Raspberry Pi), along with additional advantages and features we will talk about a bit later. Xojo Pro Plus (US $1,999) offers benefits for those who need the maximum degree of support from Xojo, because the solutions they create with Xojo are paramount in the daily workflow of their companies or business.
3. How can I try Xojo Cloud?
If you're looking for a simple and secure hosting service for your Xojo Web apps, then Xojo Cloud might be for you. There is no trial per se, but you can cancel Xojo Cloud at any time without penalty. Plans start at US $49/month and are billed on a monthly basis. If you find that you need a more powerful plan, you can upgrade at any time. Xojo Cloud really is one click cloud hosting, between the easy deployment and simple plans and pricing, Xojo Cloud really is the best!
4. Do I have to pay any kind of royalty or deployment fee?
No. Absolutely nothing! Once you get your license, you'll be able to compile and deploy as many apps and solutions as you want, to be used by as many users and/or businesses and companies as you need.
For example, if you're creating a Web or Desktop app that makes use of any of the supported databases, then you won't need to pay for anything else to Xojo; it doesn't matter how many connected clients your app is managing or any other concept. The rules about the business model for your apps and solutions are up to you!
5. Do I have to pay for my Xojo License every year?
No. Xojo is not a subscription model where you are forced to renew your license in order to continue using it. Renewing your Xojo license means you will continue to get all the support, benefits from the improvements and additional features we are continuously adding to the product. But if you decide not to renew, you will not lose access to Xojo.
Once you buy your Xojo License, you're eligible to use all the Xojo versions released during the next 12 months. Once that period ends, you'll be able to continue using all of the releases that came out while your license was active indefinitely, without restrictions. 
6. How many computers can I use with my license?
The maximum number of activations is determined by the kind of license you have. It is important to note that you can always log into your Xojo Account to deactivate any of your current activated computers. You might choose to do this if you got a new computer, for example.
The maximum amount of simultaneous activations is as follows:
Xojo Lite: 1 computer
Xojo Desktop, Web and iOS: 2 computers
Xojo Pro: 3 computers
Xojo Pro Plus: 6 computers
7. Are there other differences/advantages between the Xojo licenses?
The following table illustrates the main advantages and features offered by each license. For example, the ability to save your project files as text files is available from Xojo Desktop and up, meaning that you'll be able to integrate your Xojo projects into any of the main systems for version control.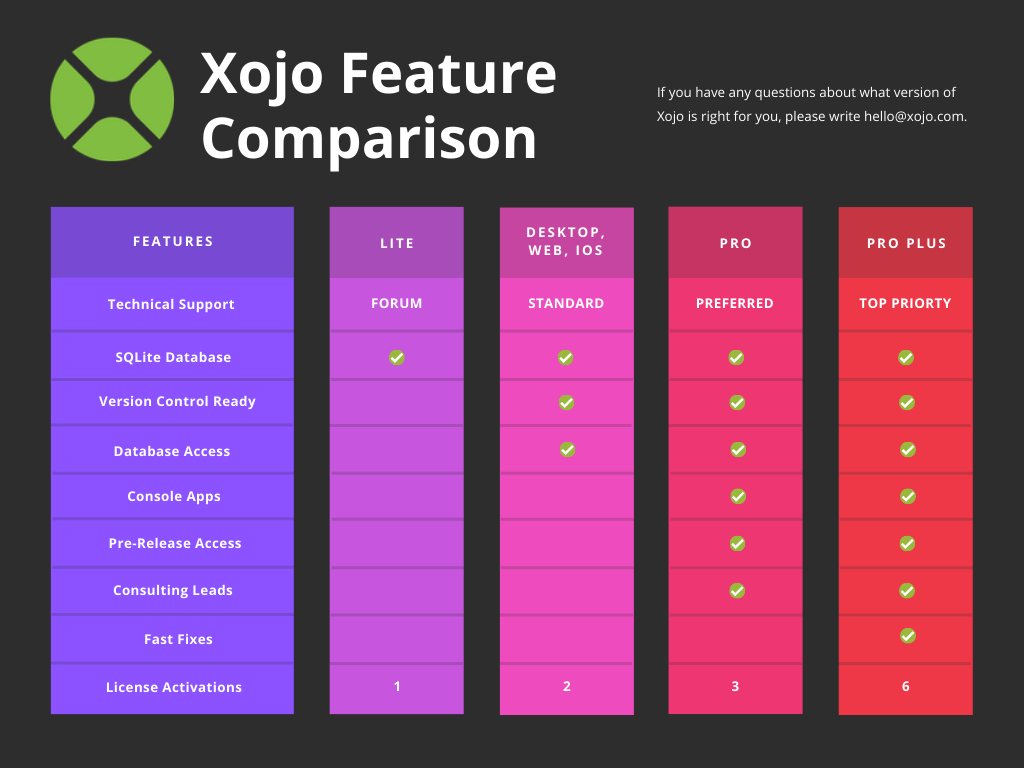 The ability to make Console apps is available from Xojo Pro and up, which gives you the ability to create and deploy apps that don't require a graphic user interface (GUI) and can be executed in background and also as services.
From Xojo Pro and up, you can access Xojo pre-releases and receive leads for consulting projects. So if you want to start your own business as a software developer you'll probably get the most from these leads and from the technical support associated with your license.
8. Can I get a refund?
All Xojo licenses are covered by a 90-day money back guarantee. So if you find that the Xojo license you bought doesn't fulfill all of your needs, you can get a refund at any time during the 90 day period.
9. Can I share my license?
No, you can't. All Xojo licenses are single-developer licenses. The fact that a Xojo Desktop license can be activated up to on two computers doesn't mean that it can be used by two developers at the same time. Having the ability to activate on several computers using the same license is because it makes life easier as developer. You may want to use one of the available activations on your "work" computer and another one in your "home" computer, or maybe on different Operating Systems.
BUT, you can assign your Xojo license to a member of your team. You cannot use your license while it is assigned to someone else as it will show in their account and not yours until you revoke it.
10. Does Xojo send any kind of information "home" when in use?
Your privacy is paramount for us. Period.
The only private information sent from the Xojo IDE is your user name and computer name during the license verification process. This is done so you can identify the computers you have activated from your Xojo Account.
That's all! If you have any questions not found here, don't hesitate to contact us and we will reply ASAP! You can also read about how to activate your Xojo license here.