So you developed this great app, now how does your marketing team of one get the word out? Social media can be an amazing tool for developers without a big marketing budget and Twitter is a great place to start.
You've opened your Twitter account using a Twitter handle that defines and promotes your brand and your app, check. You've added a close-up headshot of yourself or a clear, simple logo, check. Now, how do you get the followers and engagement you need to successfully promote your app?
For those of you, like me, who didn't grow up with social media, it can seem like an arbitrary and daunting undertaking. But dip your toe in and you'll find Twitter can be fun, informative and rewarding.
Here are 4 tested and simplified tips to get you started marketing your app on Twitter.
1. Learn the Language
You're a developer so you get it, you need to learn the ins and outs of the Twitter language.
#hashtags: Using hashtags makes your tweets more searchable, helping you connect to people with similar interests, i.e. potential customers. Research and identify the hashtags that apply to your app and use them, an average of 2 hashtags per tweet is a good start. For example, if you make a web app development tool you might want to use #programming and #webapps.
140: You only get 140 characters so make your words count. Think of each tweet as a headline, use your words to draw people in- asking a question is great way to do this!

2. Be Social
Remember this is *social* media. It's OK, even preferable, to be less formal than you would be in a professional email or even a phone conversation. Light, friendly and even off-topic is a great way to start a conversation and gain followers. But keep in mind what you say is public and can be retweeted by anyone.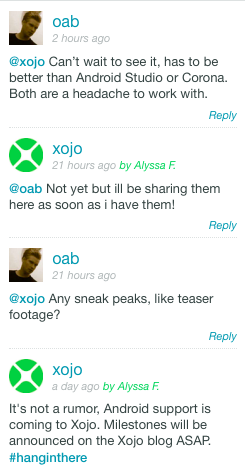 Engage #FF (Follow Friday) and #TBT (Throwback Thursday) to help you reach a broader audience. Also, keep an eye on trending hashtags; they are a great way to promote to people you may not otherwise reach.
3. Be Consistent
Tweet consistently throughout the day and the week. Tools like Hootsuite and TweetDeck are free and allow you to easily schedule future tweets.
Check out Twitter's analytic tool to find out which of your tweets perform best and when. Tweet the same information multiple times but with different angles, hashtags and images. Remember after a few hours, that first tweet isn't likely to be seen again.
On the flip side, you'll want to respond to tweets quickly. Where it may be acceptable to take a day or two days to respond to an email, people on Twitter expect almost immediate responses. If you haven't already, load up your Twitter client on your phone and respond to tweets whenever possible- it's 140 characters and shouldn't take you long!
4. Be Engaging
Start conversations with your followers and those accounts you follow. Find, tweet and comment on original content. And share more than just your app: images, blog posts and videos will receive more attention than a simple homepage link. Don't feel limited to talking only about your app or even technology, remember you are being social! Your Tweet profile should be a colorful, visual mix of images, videos, your tweets and retweets.
Tip: Twitter offers the ability to create lists to help you keep your feed organized. Create categories that help you engage with your existing users, popular accounts and potential new customers. Tweeting with and retweeting tweets from popular people or companies is a great way to grow your audience and build your brand.
Don't let Twitter overwhelm you, start tweeting and you'll see it can be really fun and rewarding!